With its last gusty, frosty breath, winter seems to be finally waning here at White Stone Farm.  The warmth of spring is starting, the fruit trees are in their flowery finery of pinks and whites and the pastures are becoming verdant and lush once again.  Ah Spring, my favourite month at the farm as the landscape dries out after its winter deluge.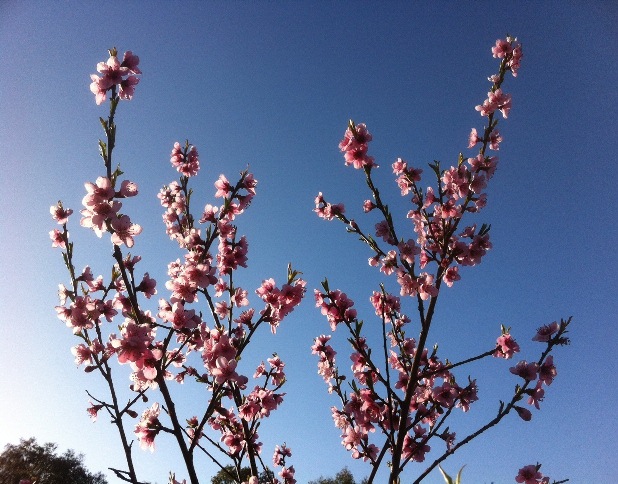 Golden rays and deep blues
White and pinks and purple hues
Heady scent upon the breeze
Will likely bring hayfever's sneeze
But Spring is welcomed in all her glory
To help us with our White Stone story
A change in the seasons also sees a change in birdsong.  Birds quiet, hidden or holidaying somewhere else during the colder parts of the year are back with their songful presence – Grey Shrike Thrushes delight us with their whistling and Striated Pardalotes call and flit amongst the Eucalyptus trees near the house.  The Welcome Swallows have returned and are again nesting above the back door, their indignant calls berating you if you disturb them when going in or out of the house.
And we have some new birds to add to our flock – three little ducklings!  When our broody Pekin Bantam chook took a fancy to keeping three Pekin Duck eggs warm, we thought 'what the hell, let's see what happens' – and nearly 4 weeks later, after some slight resurrective assistance from Stace one early Sunday morning (involving a duckling near death, warmed pot on the stove, make-shift desk lamp heater box and a dose of good luck) our little baby ducklings took their first cheep and take on the world.  Now three little growing bundles of fluff, they are getting more adventurous and keep their surrogate chook mum busy trying to keep track of them all!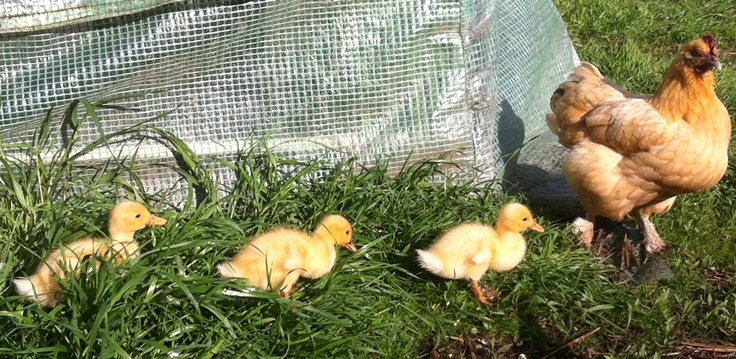 The other chooks regard them curiously, the adult ducks ignore them entirely!  They may grow up with a slight identity crisis…but they are taking like ducks to water (literally!), enjoying their well supervised swimming lessons in the remaining paddock ponds throughout the farm.  Their first-time mum, Eldorado, is taking it all in her stride and proudly watches over her young charges.  I can lose hours watching them, a term we now use is being 'duckmerised' by these little duckling darlings!
And taking advantage of the still malleable clay, Stace has been hard at work creating the additional features for our Thermal Mass Greenhouse by building an adjoining aquaponics dam next door.  This will enable a cyclic system of water to flow through the grow beds in the Greenhouse, whilst sustaining a population of yabbies and native fish that we can also enjoy consuming.  I think Stace just enjoys playing on his new back-hoe to be honest and has a myriad of other dams planned for White Stone Farm as we deal with drainage issues and improve our landscape contouring for better run-off design.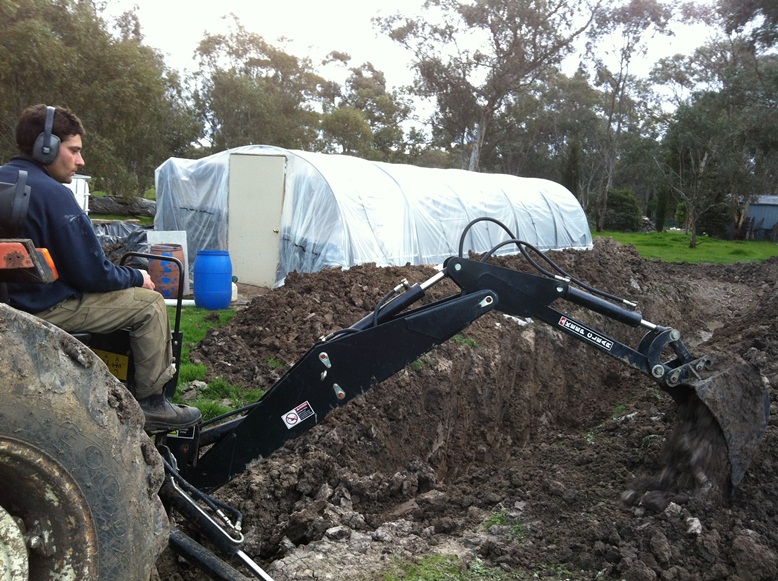 So much happening and so much yet to come for spring has sprung!  And with Daylight Savings starting this weekend, we're looking forward to packing even more adventures on the farm into our daylight hours!