The chill of Winter is leaving the landscape and the warmth of Spring is finally upon us. Thank goodness!!  Those -2°C mornings (down to -6°C one day…brrrrr!) are behind us for another year and we can look forward to longer days, more sunshine and a verdant, productive landscape.  Even the llamas are happy about the plentiful, fresh green growth…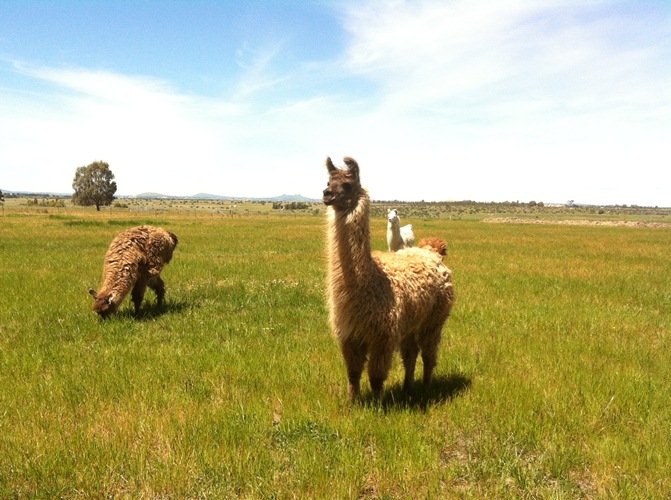 Spring is my favourite time of the year, a reminder after the dry summer and cold winter that there are ideal growing conditions to be had in this part of the world, blue sky days, clement weather and a myriad of birds filling the farm with a joyful chorus as they do their birds and the bees stuff.  Nests are popping up all over the place, birds are courting each other, plumage colours are enhanced (even our male duck's bill gets a bit more orange and he struts around proudly!) and it's a great reminder of the joys of new life.
The Welcome Swallows (Hirundo neoxena) are building their nest yet again over the top of our back door, chirping indignantly at us when we dare enter or exit the building.  Their poo is collecting in piles as they roost and raise their little ones.  We don't mind them – they are excellent insect predators, wheeling about in the sky all day hawking insects on the wing.  Who needs a bug zapper when you have these gorgeous birds?!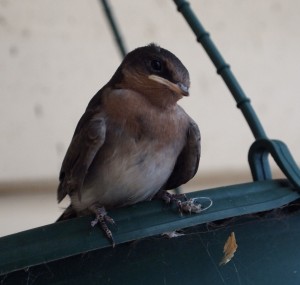 Their first set of young are primed for take-off – these birds are different to so many other nesting species in that they have to know how to fly the moment they leave the nest.  Unlike other birds that can hop around after mum and learn how to take longer flights, Welcome Swallows need to get it right the first time or it may be the last.  These birds often like to nest under bridges and above water.  Luckily for these little ones, if the first flight fails, we're there to pick them up off the ground and pop them in a hanging basket to try again later…
The Thermal Mass Greenhouse is complete and rapidly producing a variety of salad greens, tomatoes, silverbeet, radishes, pak choi, capsicums, chillis, strawberries and Japanese mustard greens.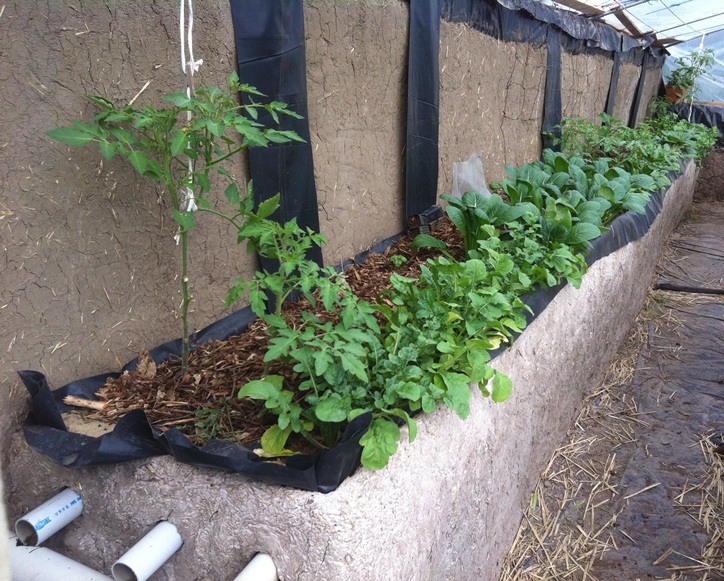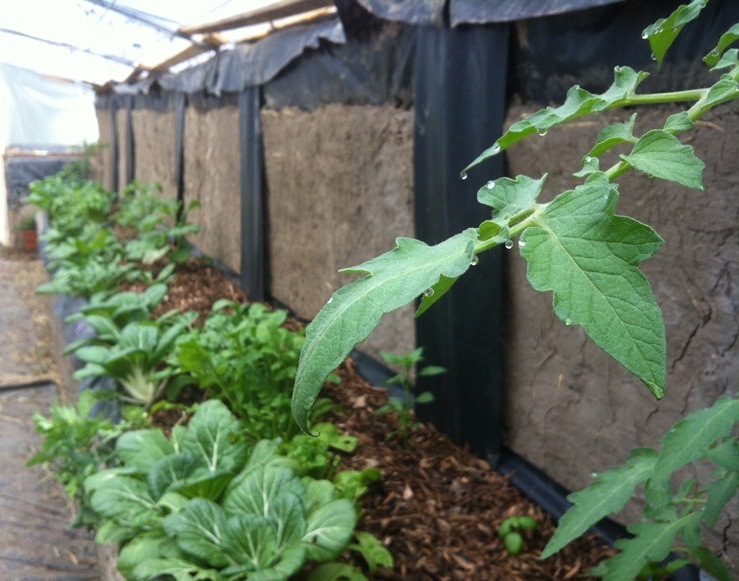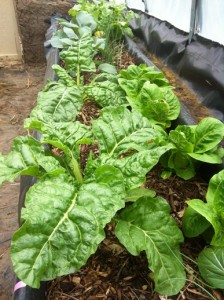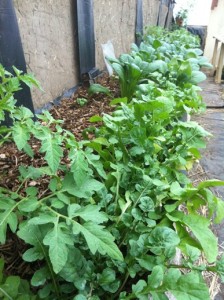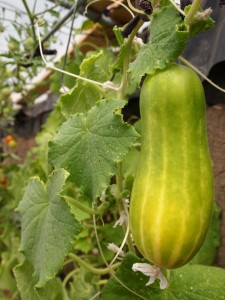 Stace's hard work getting it complete in the early stages of Winter proved fruitful as we have an early production of cucumbers and our delicate herbs were protected from the damaging frosts.
We have chosen a variety of heirloom varieties as well as old favourites.  Part of our ethic is to open up people's eyes to the vast array of different types of fruit and veg out there, the heirloom varieties that offer delicious flavour, different colours and textures that have been developed over the millenia, rather than developed for hardiness to withstand thousands of kilometres in the back of a refrigerated truck.
As the aquaponics system and adjoining dam require some finishing touches, we are hand watering each morning – and have a supervisor on site to ensure that it's done properly!  She observes the activities closely…and waits patiently for a pat or a carrot!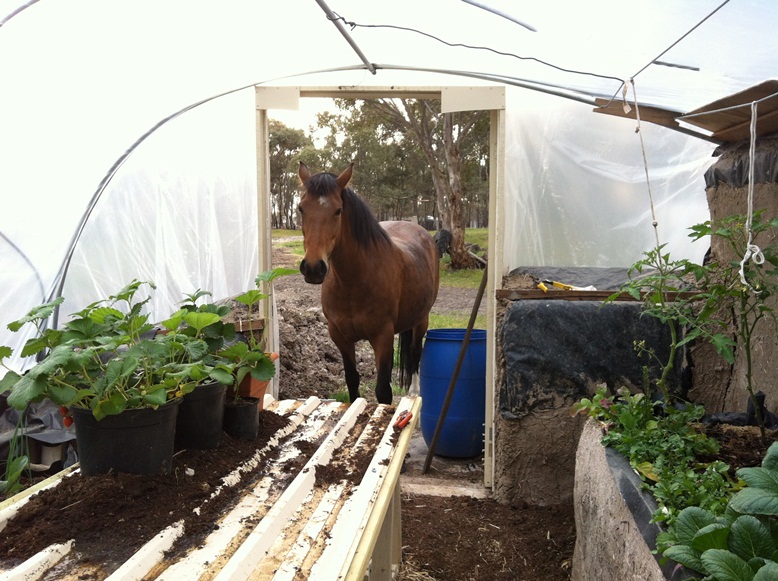 Once the aquaponics dam is complete, the nutrient-rich water will circulate through on a timed watering system and flow down through the specially designed beds and seedling table.  Yay for less hand watering!!  Stace already has plans to build more greenhouses, with even more ideas and modifications, here at White Stone Farm.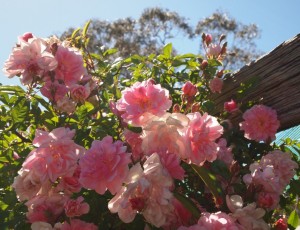 And with the magic of Springtime comes the beauty of colour to the landscape after a drab winter. Rambling roses are resplendent in their pink finery and their perfume scents the breeze.  I love watching the change in colours, as the grey skies make way for blue and bare trees bear blossoms in Spring.  It's a beautiful reminder of how gorgeous nature can be – and it gives the bees something to buzz about too!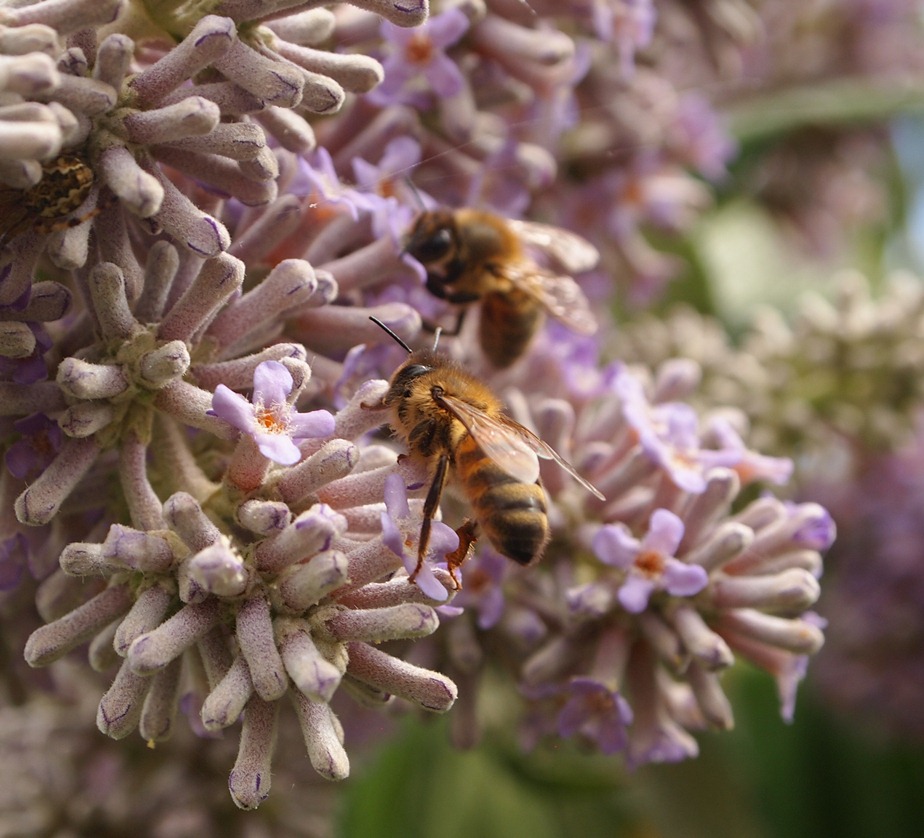 Here's to many more warm spring days, happy pollinators, lush landscapes and sunshine!