As April rolls into May and the leaves turn golden, the first frosts appear and the landscape is blanketed in autumn colours around Clunes, things are also busy as we prepare for winter at White Stone Farm.
Our winter crops have been planted, out in the newly established growing beds enriched with mulch, multiple animal manure (the llama girls certainly contributed!) and worm laden soil.  The garlic is sprouting, reaching out to the sun as the days begin to cool, while other seedlings are gathering strength and size in the greenhouse.
And in our desire at White Stone Farm for more manure makers, natural insect eaters and a possible food source later on – we've officially gone quackers!  White Stone Farm welcomes our first domestic birds to the farm – our new Pekin Ducks!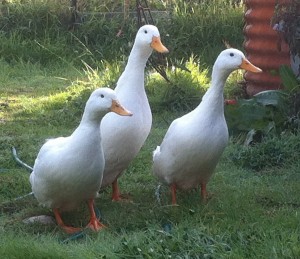 Originally bred from Mallards in China, the Pekin duck is now a popular meat bird across the world, but is also a good egg layer too, laying about 200 each year.  They are highly sociable and can bond closely to humans if imprinted when a duckling and can also be good guards (enough to rival geese apparently – which is great because geese freak me out slightly with their aggressiveness!).  Our first three duck members to the farm are a little more wild, having lived the first 5 months of their lives on a dam at a nearby farm, but they are slowly getting used to us and living in their new home. Continue reading →