A quick glimpse of what can happen in a month at White Stone Farm!
Recently I was asked by a fellow-blogger friend to contribute a guest blog detailing my life for 30 days.  The blogger is Christie Peucker, who has just returned from an epic year-long adventure around the globe where she did weird and wonderful things for a month at a time to celebrate and tick off her bucket list.  It's a fascinating look at the adventure of a solo female traveller in some pretty incredible places.  Christie has now set up 30 Days – The Collection series on her website, asking people to contribute their 30 days of life or adventure – and I was very happy to contribute the crazy antics of daily life at White Stone Farm.  Read on for a taste of my month of musings.  And if you'd like to check out Christie's blog of her amazing adventure (or help her publish a book about it!), go to: http://www.30days30years.com/
30 years = 30 days of a Tree Change
In a sudden moment of epiphany as we began our 30's, my partner and I decided that we wanted out of the smoggy city, the hustle and bustle and sprawling suburbia and headed for the hills for a new life of fresh air, wholesome veggies, strong community, country living and a small-acre farming lifestyle.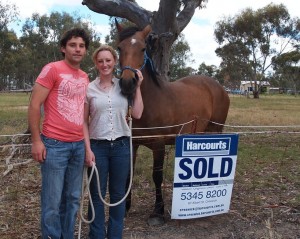 Within a month we were moving our jobs, lifestyles and futures to an idyllic country township with dreams of creating a sustainable farming venture and merely 6 months later buying and settling on a 10 acre property near Clunes in central Victoria.  Nestled on an ancient volcanic landscape, with huge gum trees that have watched over the land for over 500 years, we began to make our home in the rustic weatherboard farmhouse and named the place White Stone Farm. Continue reading →