With the changing of the seasons comes a changing of what's in season – bountiful produce one month and a glut of tomatoes, pumpkins and basil makes way for zucchini, snow peas and spinach in another season.
To utilise all this great produce requires invention in the kitchen in order to cook, preserve, dry, ferment or prepare these amazing foods to eat or enjoy later.
I make my dishes to taste, rather than quantity, so you'll have to excuse if my ingredients are approximated!  My best advice is the try the recipe out and adjust according to your own taste and discretion. 🙂
Here are some lovely recipes that I have produced for the dinner table, outdoor lunch setting or family gathering…
Roasted Tomato and Herb Soup
This is a great soup for early Autumn, when the tomatoes are ripe and the nights are becoming chilly.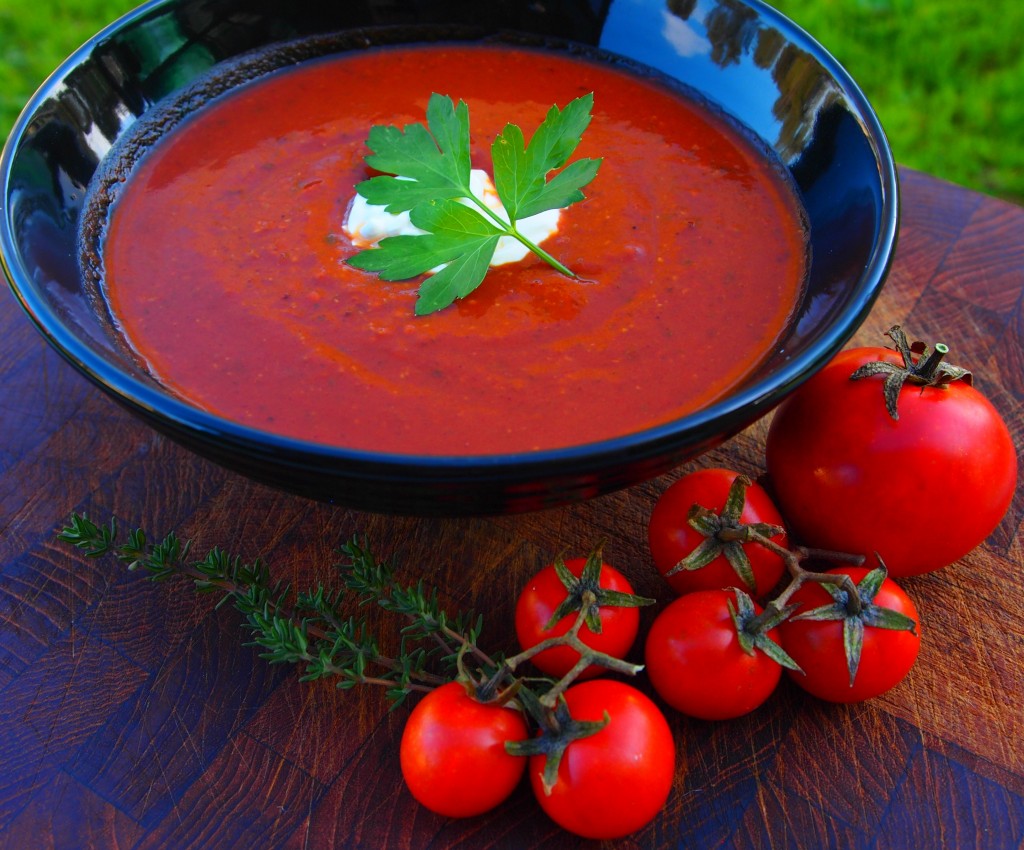 What you need:
1Kg tomatoes (we had lots of cherry tomatoes, so I used them)
2 large onions
Fresh herbs including parsley, thyme, basil
Vegetable stock (or chicken stock if you like)
5 cloves of Garlic
Salt and Pepper
What to do:
Roast tomatoes and garlic in oven on 180°C until soft
Place in large pot and add onion, stock and herbs
Simmer gently until all is cooked and soft
Blend in a blender (or use a hand mixer) to puree
Return to pot to gently reheat if necessary
Add Salt and Pepper to taste
Add a dollop of cream and serve with crusty bread
Delicious!
Cherry Tomato Bites
Bite sized and easy to serve, they are great finger food for parties with wonderful flavour.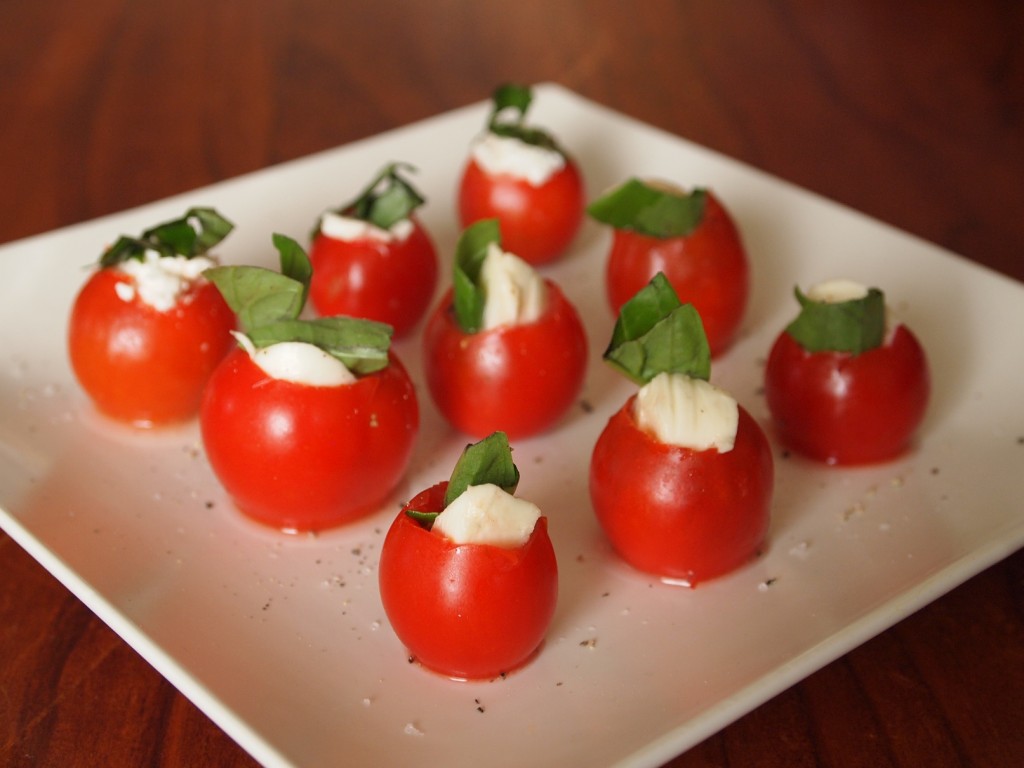 What you need:
Cherry tomatoes (you could also use small Roma tomatoes)
Feta or Bocconcini in small cubes (Feta has a stronger taste that works better, I think so anyway!)
Basil leaves, chopped
Salt and coarse black pepper
What to do:
Carefully carve out the middle of the tomato, making sure that you don't cut all the way through.  (You may need to trim a tiny amount from the bottom too, so that they stand up.)
Gently scoop out some of the seeds
Stuff the tomato with feta and basil leaf
Serve sprinkled with salt and coarse cracked black pepper
Mmmmmm….pop 'em in your mouth!
Italian Tomato Skewers with Fresh Basil oil
These are great for parties or entertaining and so incredibly simple to make! 🙂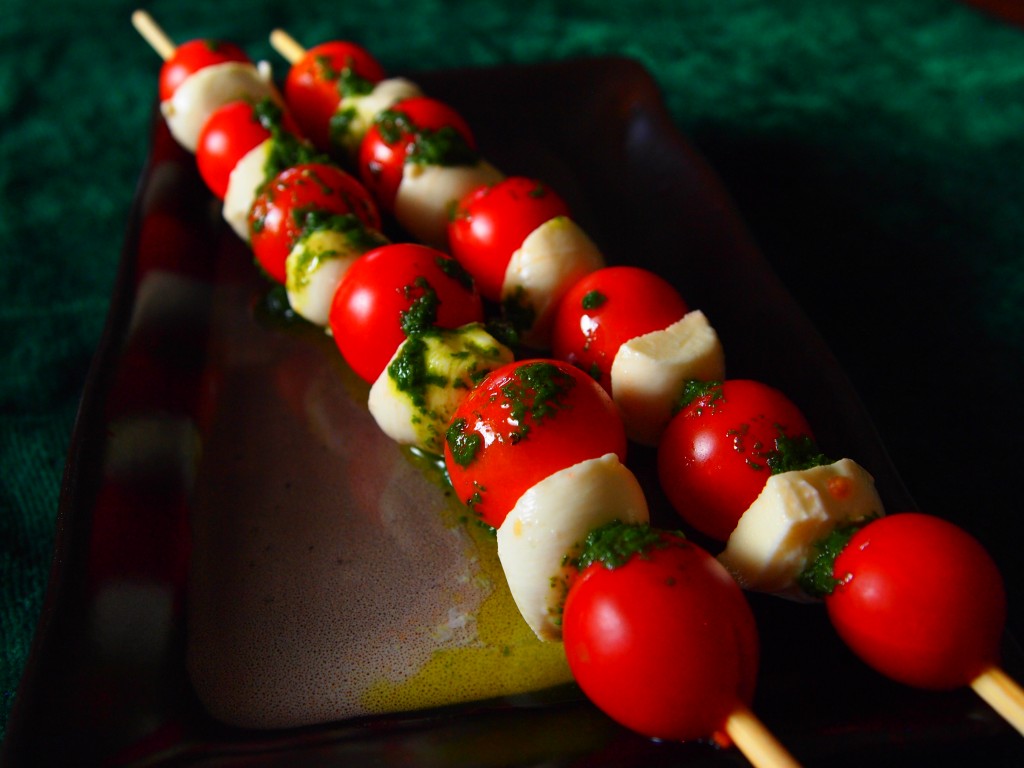 What you need:
Bowl of Cherry Tomatoes
Bocconcini balls (halved)
Large handful of fresh basil
Olive oil
Sea salt
What to do:
Thread the tomatoes and bocconcini onto the skewers.
Place Basil and salt into a mortar and pestle and grind well.
Add some olive oil and mix through.
Drizzle Basil oil over skewers and serve.
Bon Apetit!
Green Tomato Chutney
This chutney goes really well with cheeses or meats in a sandwich.  It keeps for a long time and can be an ideal accompaniment for roast meats.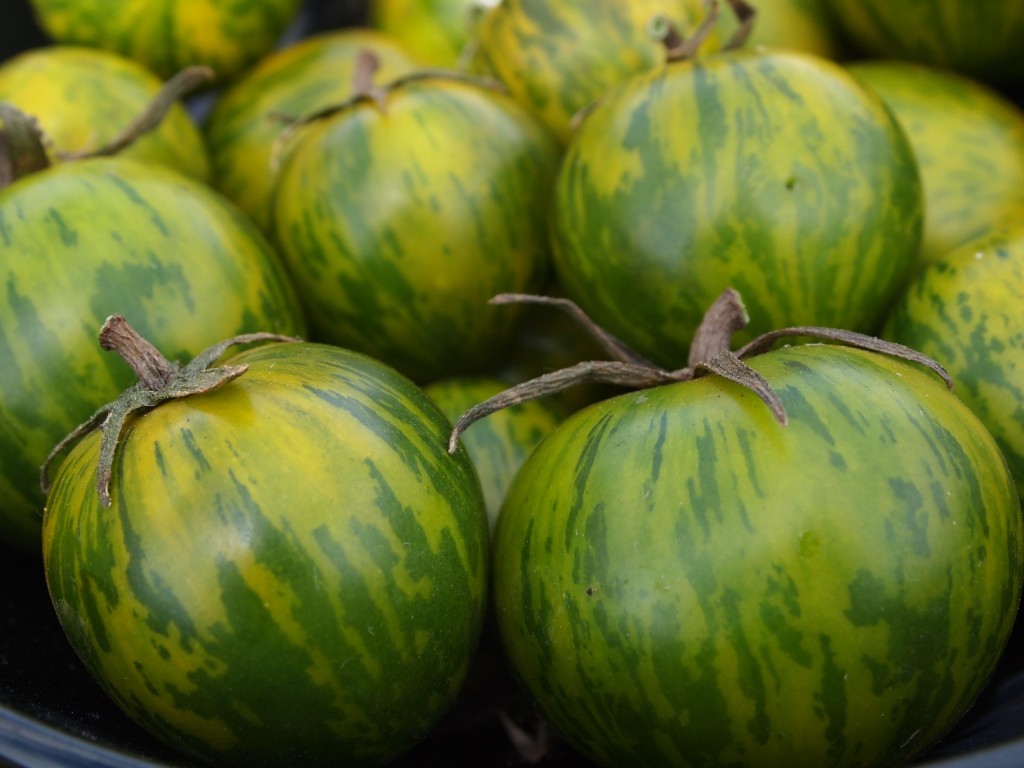 What you need:
2kg green zebra tomatoes (or any other variety is also fine)
4 large onions, chopped
900 mls brown or white vinegar
3.5 cups sugar
Tbsp mustard powder
Tbsp curry powder
1 chilli (optional for extra zing!)
What to do:
Peel onions and tomatoes and chop up finely.
Place in separate bowls, sprinkle with salt and cover with water.  Leave overnight.
The next day, drain off liquid.  Place onions in large pot with most of the vinegar and boil for 10 minutes (reserve about 50 mls of vinegar).
Combine mustard and curry powders with remaining vinegar.
Add tomatoes, chilli (optional) and sugar
Bring to boil, then simmer for 1.5 hours, stirring occasionally
Chutney will have thickened
Check taste (add more mustard for more zing if required)
Bottle in sterilised jars, seal lids and store in a dark cupboard until needed
OR Decorate lid, label and give away as presents!  What a thoughtful gift!
Roast Beetroot and Fresh Dill dip
This is an amazing dip.  The gorgeous colour, fresh dill and creaminess of the yoghurt complement each other really well.  This is a crowd favourite for any party, afternoon tea or healthy snack.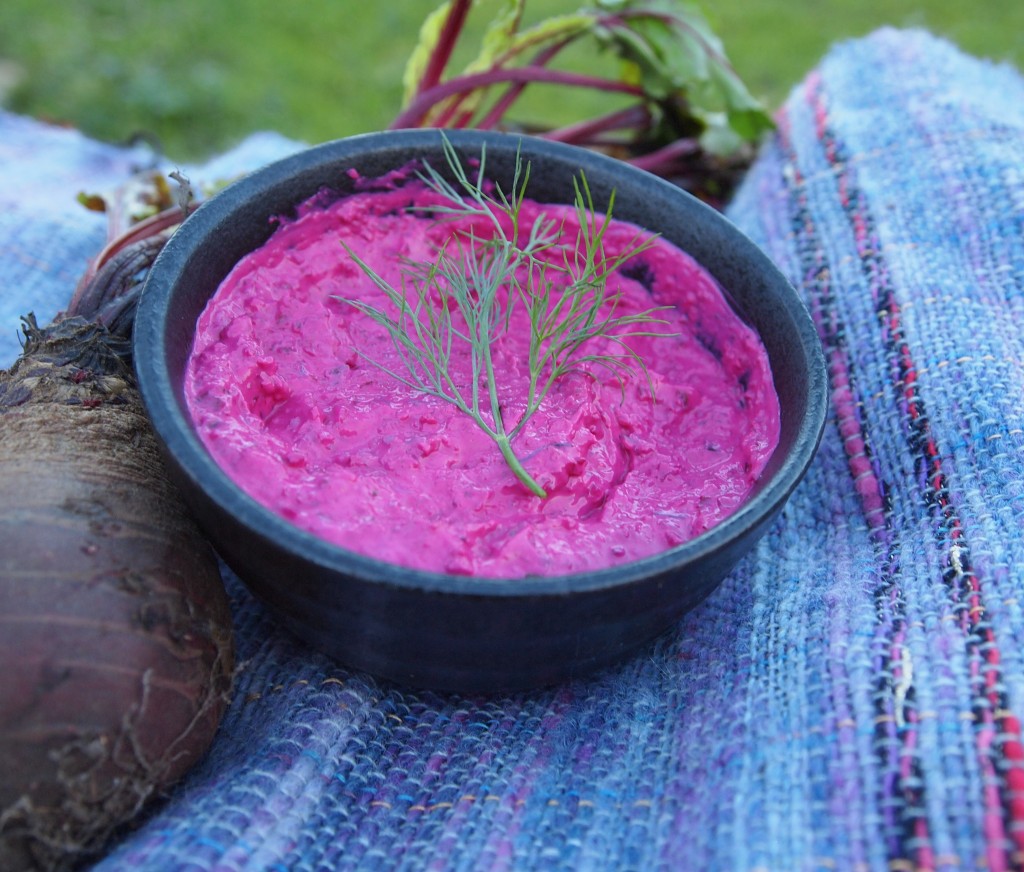 What you need:
4-5 good sized Beetroots (or 10 baby beets)
4 cloves of garlic
Olive oil
Bunch of fresh dill
Small tub of Natural (Greek) yoghurt or Tzaziki dip
Salt and Pepper
What to do:
Peel beetroot and cut into medium sized pieces
Arrange on a baking tray, drizzle with olive oil, rolling beetroot around to cover
Sprinkle over pinch salt and pepper
Bake in oven at 180°C for 40mins
Add whole garlic cloves (unpeeled) to tray and return all to oven
Bake for a further 10-15 minutes
Remove from oven and allow to cool
Place beetroot in blender and squeeze out garlic from skin.  Blend well
Once all beetroot is blended well, remove and add dill.  Stir in well
Add spoonfuls of natural yoghurt or tzaziki dip (if using) until desired consistency and taste is reached.
Enjoy with water crackers or sliced vegetables such as carrots and celery. Yuuuum!
Sun-dried Cherry Tomatoes in Herb Oil
Well, I say sun-dried, but I actually dried these in a Sunbeam food dryer.  You can also dry them in a low oven with the door open for 8 hours.  The old-school way is to dry them in the hot sun for a day, but we have too many critters that would feast on them!
These are great in salads, pastas or with cheese and biscuits.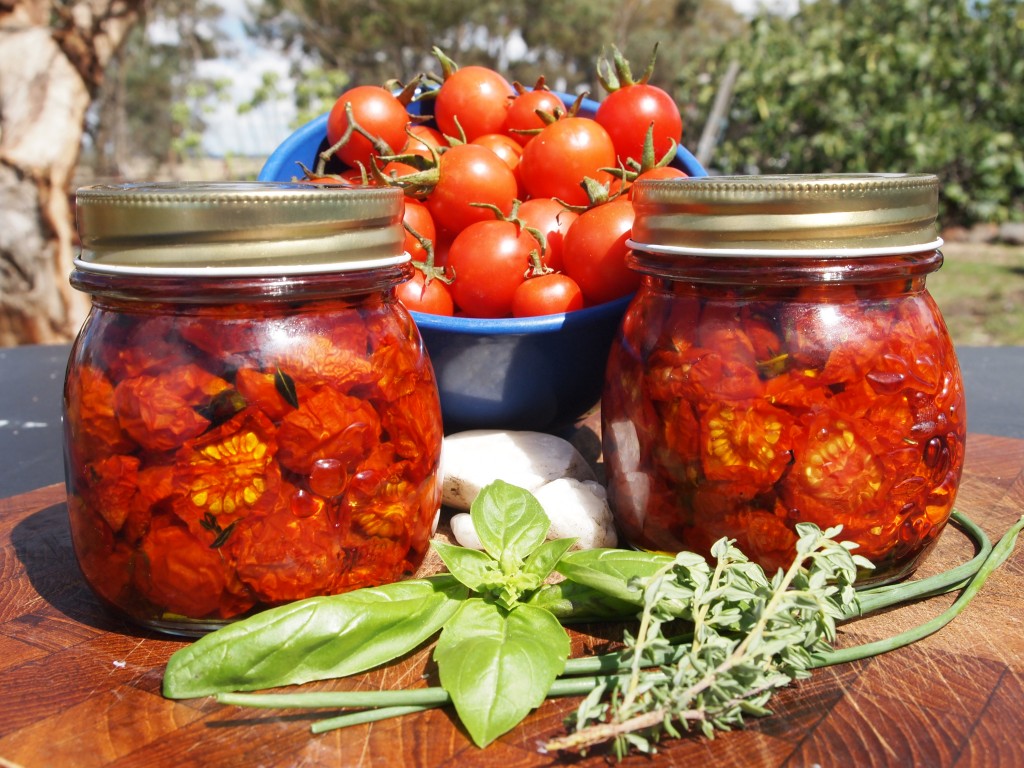 What you need:
Bowl of cherry tomatoes, halved
Good quality olive oil
Dried herbs (thyme, basil and oregano all work really well)
What to do:
Dry your tomatoes until they are hold little moisture (whatever method you choose)
Gently warm the olive oil in a saucepan and add the herbs
Pack the dried tomatoes tightly into jars
Pour over the warmed oil to fill the jar.  Screw on lid.
Vacuum seal lids by inverting the hot contents for 2 minutes then letting stand upright.
Store in a cool, dark place.
Got a favourite recipe?  Let us know!