Welcome to White Stone Farm – a newly established and burgeoning sustainable farm on the outskirts of Clunes in Central Victoria.  Nestled on the vast volcanic landscape, this property is the new home of Prue Simmons and Stacy Elson and their dream to create positive change through innovative techniques, delicious food and sustainability.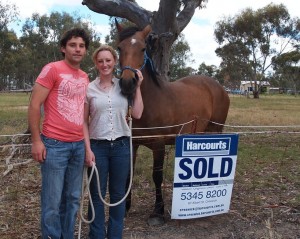 In a time of food insecurity, preservative and chemical laden foods, climate change, diminishing health and disappearing community spirit, Prue and Stace packed their bags and swapped their lifestyles of Melbourne's hustle and bustle for the quiet pace, strong community and clean air (reputed to be the cleanest in Victoria!) of country Victoria.
Besides, they couldn't afford to buy a house in Melbourne!
A Tree Change…a Search for a Healthier Lifestyle…a Desire to Get Away From the Hustle and Bustle of the 'burbs…a Need to Make a Positive Difference to the Planet…

All of these inspired our move out of Melbourne and to a 10 acre property in Central Victoria in 2011.
Moving in before a bitter winter in 2011, Prue and Stace worked tirelessly to get the house in a liveable state and start the long process of planning, planting and producing tasty, fresh vegetables and herbs.
Along with Jess the horse, who behaves more like a dog and has the run of the place and a growing llama herd (currently 3 young girls called Brittany, Yuki and Lilah) and a myriad of chickens and ducks, there are lots more plans for future livestock as they eke out a healthier existence on this ancient alluvial floodplain.
Join Prue and Stace (and Laurel the Tractor!) on their journey as White Stone Farm evolves, grows and changes through Sustainability, Innovation and Education.  And lots of hard work!