Just when we thought the heat of summer was waning and that autumn was on its way…a final hot day for February and out of control bushfires to deal with!
Don't you just hate the feeling when you are sitting at work in a neighbouring town and looking out the window to see huge amounts of smoke billowing into the sky from the nearby landscape…to hear the local firetrucks roar past – those AMAZING volunteers that don their heavy yellow jackets on 40 degree days to fight the fires and try to save our landscape, communities, houses and livestock.
What's even worse is when you realise that the smoke is from a big bushfire and with the recent wind change, that it's headed straight for your friend's property where your llamas and horse are currently agisted!  What follows is a very quick exit from work, a very hurried drive to get home and grab halters, ropes, woollen blankets (in case I was caught out in the fire and needed to shelter in my car), hay and treats (getting 4 unruly llamas haltered in the middle of the paddock and onto a trailer alone was going to be interesting…) and my phone and then a very quick drive towards the towering plumes of smoke for Operation Animal Evac!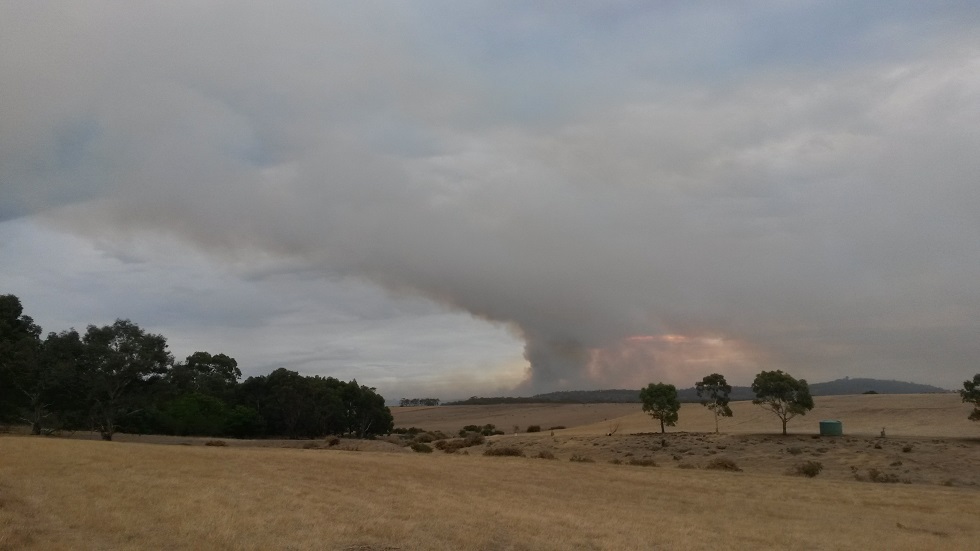 Adrenalin had kicked in once I got to the gate of the property and raced up the driveway.  The llamas and horse were grazing in the front paddock, so I whistled and called them to follow the car up to the shed where the trailer was located.  Luckily, I have been visiting frequently and they are used to associating the car with copious amounts of carrots and treats and all came trotting up as I hurriedly put the trailer on the back of the car.  They were all still relatively calm as the hot wind hadn't yet shifted in our direction.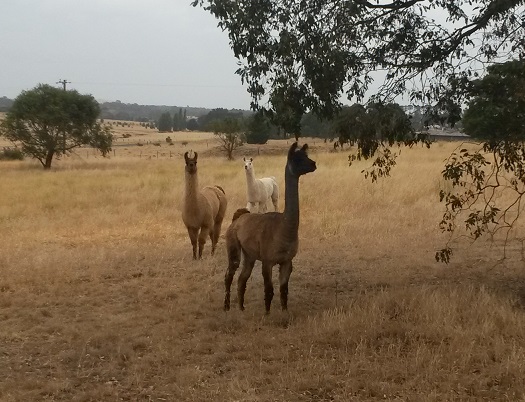 Lilah, my friendliest llama was the first up for treats and I quickly managed to halter her and load her onto the open box trailer.  The others I knew would be more difficult, as they have been running wild across the 15 acres for a few months.  But, with surprising speed, I somehow managed to get both Brittany and Wildfire in halter and wedged them all on the trailer.  This was a fantastic reminder as to why I got Llamas instead of Alpacas.  Llamas will come up to you in the paddock, they will respond well to training, treats, commands and halter training.  They are much, much, much easier to catch and halter in an open environment than a skittish alpaca would be.  Their domestic evolution as a beast of burden certainly comes through with the right training and I was so grateful at that moment that I had invested in training them, for there was not a minute to lose.
Meanwhile, back at the fire front on the other side of the ridge, the blaze had made it into hillside bushland…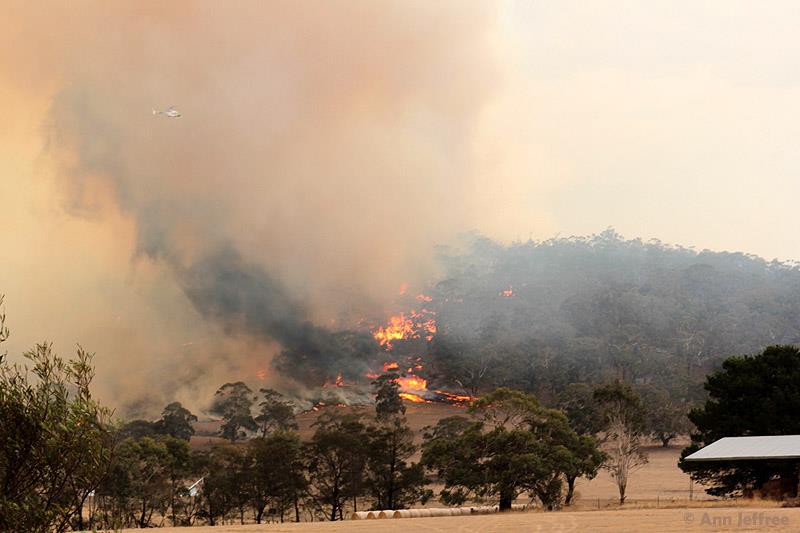 Yuki, the final llama – who was incredibly difficult to trailer load in the past and the wildest of the lot was going to be an issue.  I couldn't fit her on the trailer – I usually only trailer a maximum of 2 llamas at a time as they like their personal space, but today I had 3 squished in there, shoulder to shoulder.  I would have to come back for her.  And somehow get her on-board…
I made the dusty dash down the driveway with the llamas all jostling and bumping along in the trailer.  As I drove out the driveway, 8 more fire engines and CFA vehicles roared past me on their way to the fire front.  Teams were coming in from near and far to fight this blaze.  I couldn't see the flames, just the huge billowing cloud coming up from the other side of the ridge.  I hoped that they were getting it under control. 48 trucks were there already and a number of large helicopters and water aircraft.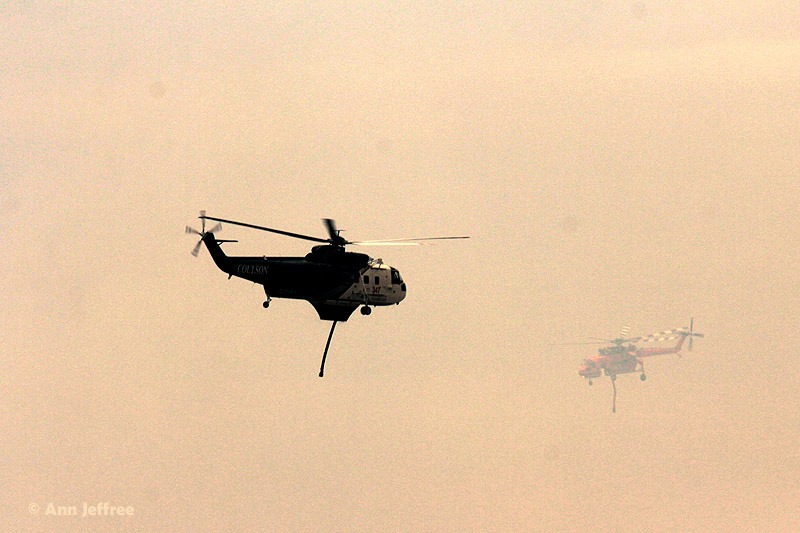 Back home at White Stone Farm (which was actually only 13kms from the blaze…but a damn sight further away than my friend's property!), I quickly unloaded the llamas.  Wildfire, not used to being crushed between the two girls had spent much of the frantic ride home spitting at Lilah, whose face was now covered in green, rank stomach contents.  Poor thing, I had no time to wash her face, I just removed their halters and turned them loose.  I needed to race back for Yuki…and had no idea what I was going to do about Jess the horse.  I don't have a horse trailer and my friends who do were pretty preoccupied evacuating their own animals at this stage.
By this time, Stace had made it home from work and met me at the front gate of the property.  The wind had shifted and yellow-grey smoke drifted menacingly across the landscape towards us.  Poor Yuki was in a bit of a panic with all of her llama herd suddenly disappearing, but we managed to coax her over and get the halter on her.  Now for the tricky part, getting her to step up onto the trailer! I don't know if it was her desire to get out of there, our adrenaline or the urgency of the situation, but she stepped on with relatively little fuss (compared to last time where we had to practically LIFT her 100+kgs on!!). Ok, what about the horse?  Jess was up the back of the paddock hanging out with some neighbouring horses.  We drove up there to get her as she refused to come down.  I managed to get a halter on her with minimal fuss. I couldn't put her on the box trailer, so I gave Stace the keys to drive Yuki home and had no option but to walk the 8 kilometres home with Jess in tow. I didn't have a helmet, saddle or bridle with me and didn't trust that I could be calm enough bareback to ride her home safely on the roads, so we had to leg it!
It was hot, windy, a little smoky and I realised that I hadn't eaten nearly enough lunch for this amount of energy!  Jess moseyed along, it was her first big adventure outside the gates and other than a possible horse-eating old couch on the nature strip that she eyed suspiciously, she was absolutely fine. We made it into town where a friend saw me and offered Jess a paddock for the night, until I could float her the rest of the way home.  We reasoned that the blaze was getting under control and that the town wouldn't be at risk now and could leave her there for the night.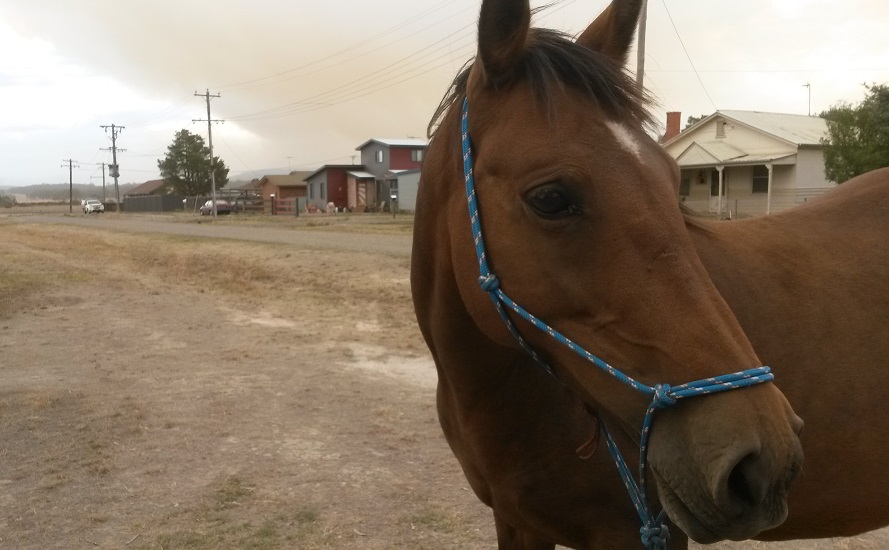 With all my beasts safely relocated, we waited with bated breath to see if the firefighters could manage the blaze.  By now there were 93 vehicles attending.  With their amazing hard work, teamwork, talent, grit and determination they got the blaze under control.  We could see the fires still burning on the ridge that night from White Stone Farm. Ten days later it still burned, with teams managing the blazes as they reignited or smouldered.  Without any decent rain, these amazing crews are all we have to ensure that our homes and communities continue to be safe.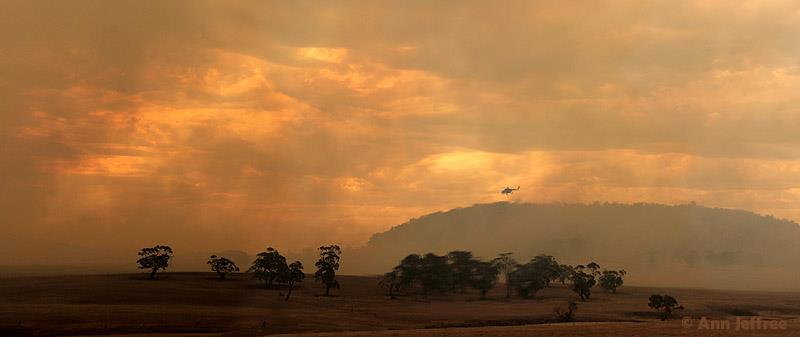 The sad part is that this fire – and 2 more that were alight at the same time nearby, are believed to be the work of arsonists.  The Country Fire Authority do an amazing job, dropping everything to put their safety on the line in dangerous conditions to ensure that their communities are safe. Forget the Marvel Superheroes – these men and women are indeed real life Superheroes!
We donate to the CFA every year, as we are not able to volunteer for the brigade. It never feels like enough though when you see the tremendous work that they do. If you would also like to donate to this fantastic cause, go to the CFA Website.
My fingers are crossed that this is the last of the fire season for summer.
The amazing fire photos in this post were taken by the very talented Ann Jeffree. See more of Ann's wonderful work at Ann's Facebook page.